WCP001 Prunus cerasifera: Prunus cerasifera
West Cork Palynology - digitised reference slide
Select a different view (1 available)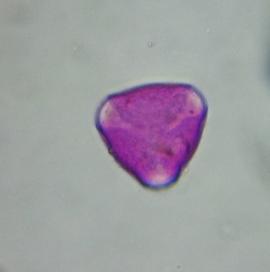 Citation
Lewando, R (2019). Prunus cerasifera (WCP001 Prunus cerasifera). Digitised palynological slide. In: West Cork Palynology (Version 1, published 04/26/2019). Retrieved from globalpollenproject.org on 2023-03-31.
These images are licensed under a
Creative Commons Attribution-NonCommercial 4.0 International License
Help us identify individual pollen grains and spores within this slide.
Log in to get started.
Origin
Taken from a wild plant
The plant was identified by R. Lewando.
---
Rearahinagh
Drimoleague, Cork, Ireland
Reference Collection Details
Taxon on Slide
Family: Rosaceae
Genus: Prunus
Species: cerasifera
Sample Collected By
R. Lewando
Slide Preparation
Prepared by
Unknown
Chemical Treatment
fresh
Slide Creation Date
2017
Mounting Medium
Glycerine Jelly