Mollugo verticillata L.
Species in the Global Pollen Project's Master Reference Collection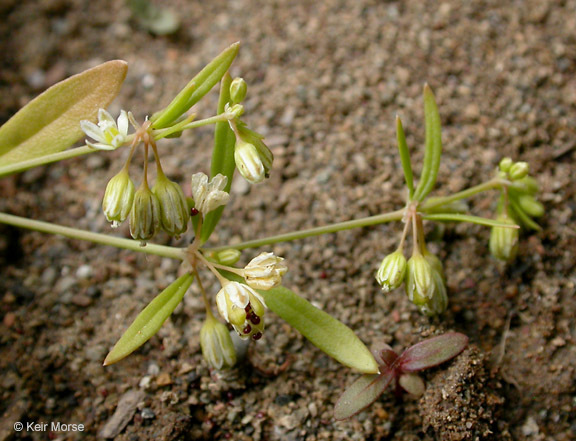 © 2008 Keir Morse (licence)
Green Carpetweed
Plants prostrate to ascending, 3-15 (-45) cm. Leaves not glaucous, in whorls of 3-8, basal rosette present, sometimes disappearing as plant matures; petiole 0.5-4 mm; blade linear to elliptic, obovate, or broadly spatulate, 5-40 × 0.5-15 mm, base cuneate, apex obtuse to rounded or acute. Inflorescences: flowers 2-6 in sessile, axillary umbels. Flowers: sepals green abaxially, white adaxially, obl... © Missouri Botanical Garden, 4344 Shaw Boulevard, St. Louis, MO, 63110 USA (licence)
See more in the Encyclopedia of Life...
Definition
Parent Taxon
Global Pollen Project UUID

bc6b7422-cf79-44b7-b828-0c23d6a04ee9
Botanical Reference

None available. You can check The Plant List for further information.